"Using the right wood in the right place is particularly important"
Robert Andersson is a production manager at Martinsons Byggsystem Skellefteå, Sweden. He has managed many major timber construction projects over the years. Sara Kulturhus in Skellefteå, Sweden a 85 meter tall building with a CLT and glulam frame, is a project that stands out from the crowd. 
With his background at Valutec, where he began as a carpenter's apprentice and left as a project manager, his knowledge extends from the lumber supply chain to end-user production. "The use of wood has really shot up, which is really good news. For us, informing the client about using the right wood in the right place is particularly important," says Robert.
  In 1979, a young carpenter's apprentice was hammering his first nails in what would become a centrally located two-car garage in Skellefteå. Back then, Robert had gotten a foot in the industry door through Alfred Lövgren, his family's neighbor, who owned the construction company that would later become Valutec.
  Later, Robert became a permanent employee and began working with lumber kiln assembly when that part of the company started to take off. "I assembled my first kiln at the sawmill in Myckle around 1983. Then followed many assembly jobs in Eastern Europe behind the old Iron Curtain, so I have an incredible number of stories and experiences behind me, but I also worked around the rest of Europe," says Robert.
World traveler
When he started a family, he switched positions to workshop manager and assembly planning, before beginning as project manager in 1996, traveling to North America often.
  "That time was valuable, I learned a lot and developed as a professional. Especially when I saw how far behind the eastern bloc countries were compared to Sweden.
  The unusual projects were also interesting, like the kilns we erected for a piano factory in China, or a project in Russia where they needed a kiln to recover valuable black oak that sank when Tsar Peter the Great was shipping oak to build up his fleet," says Robert.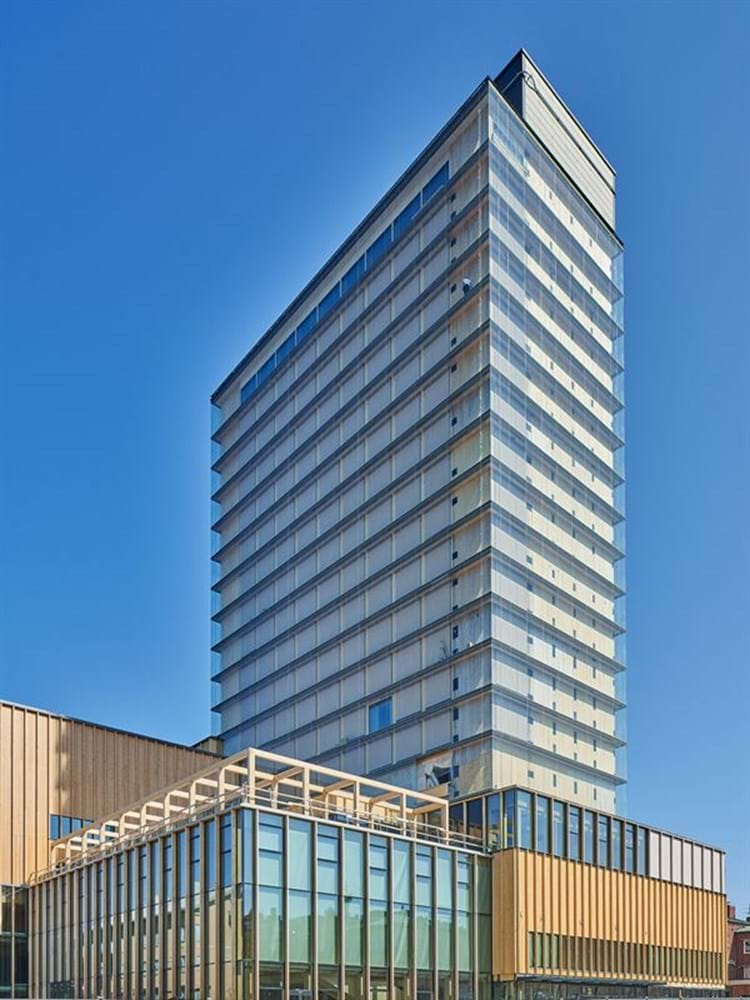 Right at the heart of Skellefteå, Sweden Sara Cultural Centre stands. One of the tallest timber buildings in the world. Including a new premium hotel, this building is Skellefteås new hub for art, concerts, shows, meetings and congresses. 
Sara Kulturhus is a transformative building counting 20 floors where open spaces inspire meetings between people. Here you are offered a unique meeting place in modern premises that exudes creativity and innovation. Social and cultural activities with a clear connection to the cultural centre are offered as a natural part of the meeting.
The day can end with a relaxing break in the premium hotel's spa, dinner in the restaurant with a panoramic view of Skellefteå and first-class accommodation.
Large-scale wood construction
In 2008, Robert began working as project manager at Martinsons Byggsystem, where he was involved in a number of large-scale, high-profile projects. IFU Arena and Studenternas in Uppsala, CIK Arena in Knivsta, Östersund Arena and Jämtkraft Arena, to name but a few.
  Phase 1 construction of Sara Kulturhus began in June, 2018, with Robert now production manager at Martinsons. Sara became an impressive project that used new wooden structures and solutions that had not been tried before.
Where architectural aesthetics would create challenges such as buildable, stable assemblies.
  "In my opinion, the quality of wood has also developed. Martinsons has developed too and choosing the right wood for the right product is an important task for us. But above all CLT has increased to such an incredible extent and we were right on the ball, but over the last five years it has truly exploded," says Robert.
  "Green issues in the construction sector and the various environmental certifications are driving the use of eco-friendly building materials. For example, a wooden building frame means many points and a lot of people choose that option," he says.
Investing in a TC continuous kiln
When the Martinsons' sawmill in Bygdsiljum, Sweden – now owned by Holmen – opened its CLT factory, they also invested in a new TC kiln. They were farsighted and chose a high capacity, flexible kiln specifically to cope with an increased demand and to minimize future bottlenecks.
  "Getting hold of the right raw material for the production of glulam and CLT when it is needed in our production chain is a big challenge. When we sell to a major project like Sara Kulturhus, we sketch out a schedule early on,
where we also include approximate volumes of the various products, such as 425,000 board feet of 215 mm wide glulam beams," says Robert.
  "As a result, we have to make sure we have sufficient spruce timber, and saw and sort the right dimensions and quality. Next comes the drying process, which is important as the standards for glulam and CLT production are highest here, with a moisture content of 12 per cent," he tells us. Then comes production according to the applicable standards, where the right quality lumber must end up in the right place. Before packaging, the surface is checked for knots and larger pockets of resin, depending on the surface quality chosen.