Leader: Continuous kilns should be a simpler choice
Here at Valutec we have secured over 20 European patents since the beginning of the 1970s, including twelve since the turn of the millennium. This is proof of how devoted we have been to development over the years, and I believe that there will be many more patents to come. We are in an intensive phase right now, particularly with regard to development of continuous kilns. As I see it, our combined projects have the potential to deliver results that crucially improve working methods at sawmills, in the direction of a more automated process.
One type of kiln facility that is seeing great interest from the market is the TC continuous kiln. When it was launched, it was seen as a niche product for the very biggest sawmills. Today it is substantially more flexible and is an attractive option for medium-sized sawmills too, both in Sweden and overseas. The flexibility and efficient processing offered by the TC kilns, including free mixing of dimensions, is naturally attractive, and as the market grows and we have more types of user, it also highlights which components in particular we need to continue to develop.
In my work I have always tried to be around experienced and skilled kiln operators, who through the desire to experiment and painstaking trial and error have found their own individual ways to handle variations in the raw materials entering their sawmill. Thanks to their experience they have a unique and close-up view of how the elements of the drying process in combination with kiln properties affect the end result. Such experience means that they have a key role to play as sounding board and requirements-setter.
However, we also develop our functions to meet the needs of newer kiln operators, who perhaps have not used a continuous kiln before or are new to the job.
Consequently, we are working to lower the threshold for being able to operate a continuous kiln in an efficient manner. It's largely a matter of developing even smarter and more self-regulating control systems. This will provide additional assurance for how the timber is handled during the process and will be a particular advantage when it comes to creating a common view of the role of the timber drying process in facilitating increased use of wood – wherever in the world the sawmill happens to be located. We report in more detail on two of the projects below – one we are running ourselves and one is a joint venture with Luleå University of Technology.
There is, of course, a lot more going on in addition to this. For example, the project involving weighing of raw timber packages, and how this can be used as input data for the process, will be given a substantial boost during the spring. We look forward to returning to this!
Regards,
Ingo Wallocha
Contacts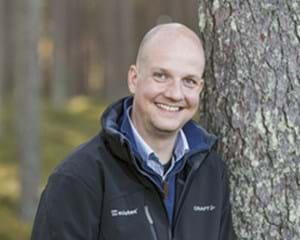 Ingo Wallocha
Managing Director Valutec Inc
+1 416 640 7478
+1 778 868 3695
ingo.wallocha@valutec.ca