Study shows benefits of longer reversing
One hour's fan rotation reversal has long been the standard in modern batch kilns. All the same, there have been few proper studies into how lumber is affected by fan reversal time. Because changing fan rotation parameters in the control system is easy, Valutec, Luleå University of Technology and RISE wanted to conduct a study within the Bioinnovation project into whether a longer reversing time can help improve the drying process.
The answer provided by tests in Norra Timber's Kåge Sawmill, where 191,000 board feet (450 m³) of F50×100 mm lumber were dried in three modern batch kilns, is YES. Extending reversal times has a certain positive effect and there is reason to modify the old truism.
"When it comes to wet dimensional lumber, we believe there to be advantages in prolonging reversing time up to six hours. At the same time, the study shows there to be no real disadvantages from prolonged reversing times in lumber of up to 50 mm, even if the effect is small when there is plenty of air across the full air-blow depth," says Thomas Wamming, R&D manager at Valutec.
Valutec carried out the study together with RISE and assistant professor Margot Sehlstedt-Persson at Luleå University of Technology.
"Working with clever, competent people is a privilege, and I would like to extend great thanks to Kåge Sawmill, which always leaves the door open to us and lets us carry out R&D at their mill," says Thomas.

Comprehensive study
It was a comprehensive study. Tests were carried out in three different drying schedules with a total drying time of 60 hours and a target moisture content of 18 percent. The air-blow depth in the kilns was 10.5 meters, and each kiln had seven stacks. The aim of longer reversing times is to remove moisture in the center of the kiln, as drying power reaches it quicker when capillary water flow is maintained for long uninterrupted periods.
The three-kiln schedule tests included reference drying with 1–2 hours fan reversal and slowing, and two 6-hour reversing schedules with fans running at 100 percent in one dryer and slowed in the other. No conditioning was carried out.
The purpose of the study was to achieve a more even moisture content across the full blow-depth in a fast drying process, in which part of the exercise was to establish the importance of reversing time.
It's common for lumber in the center of the air-blow depth to get too wet, especially in the case of kilns that are overloaded with water or when drying time is too short. Tests with extended reversing times were previously carried out in old batch kilns, with good results. However, the effect in modern batch kilns at higher air velocities has never been studied.

More even moisture content variation
The experiments with a longer reversing times also showed positive results with a reduced moisture content variation.
Tests were carried out on a total of 22,257 planks, which were passed through a Microtec inline meter on the trimmer, where it was shown that the reference run with a standard reversing time had a slightly higher variation with greater deviations than the other two.
One misgiving about longer reversing times was the possibility of more checking in the edge stacks. The results from the trimmer showed no such negative effects. Nor was it possible to detect any deviations as regards warping.
"In the right situation, there are clear advantages with longer reversing times. For example, it might concern reducing moisture content variation by using fan reversal when there is free water in the charge. But in situations where we have high drying power right across the charge, it's less important," explains Thomas.
The study is now concluded, and Thomas feels it has provided a good basis for continued development.
"We had the opportunity to conduct a thorough study in a field where matters had been taken for granted previously. In a field such as lumber drying, there's no magic formula that guarantees we'll suddenly begin delivering lumber packages with perfect results every time. There are simply too many input parameters that are impossible to control in an entire package. Instead, it's all about taking steps in the right direction and in the right context. Which is how this study should be interpreted, too. There are good grounds for using longer fan reversal times for wet dimensional lumber in order to achieve better results in terms of moisture content variation. This study means we've come a little further in our efforts to continue optimizing the lumber drying process," says Thomas Wamming.
Contacts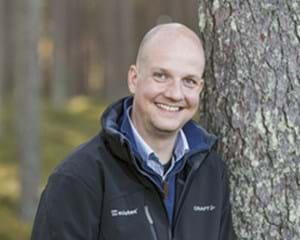 Ingo Wallocha
Managing Director Valutec Inc
+1 416 640 7478
+1 778 868 3695
ingo.wallocha@valutec.ca